Menu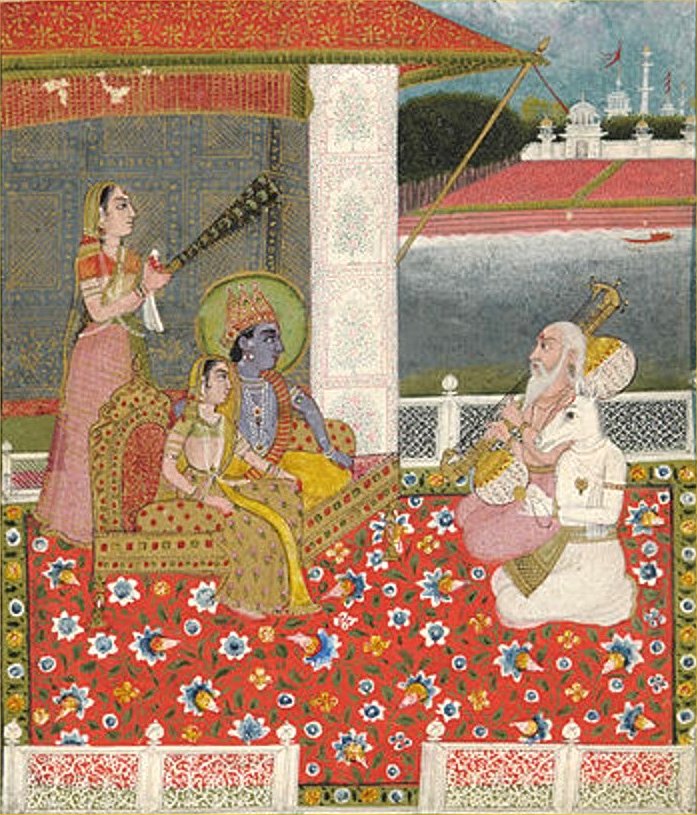 Rudra Veena

Links:

RUDRA VEENA WEBSITES
Rudra Vina
An excellent site with detailed information on the instrument, the history, the musicians, the music and more

Patrick Moutal's Site - Hindustani Rag Sangeet Online - Rudra Veena
Patrick Moutal's Site is an incredible resource. The Rudra Veena page has some rare audios

Chandrakantha Rudra Vina
Information and videos

Oriental Traditional Music from LPs & Cassettes
Older Masters of Rudra Veena (Been) - in the November 2012 Blog Archive. Information and rare old recordings of Ustad Dabir Khan, Ustad Sadiq Ali Khan, and Ustad Abid Hussain Khan. Tawfiq also has two posts on Shamsuddin and one on Asad Ali Khan... as well as all of the other excellent entries. Highly recommended!
RUDRA VEENA MAKERS
Saraswati Tantuvadya Kendra
Miraj - Altab Mehboob Sitarmaker
Recommended
"the art of making quality beens flows generation by generation"

Nitai Chandra Nath (see Sitarsencat in the INSTRUMENT DEALERS section below)
35/181 Jangambali, Varanasi.
Near International Music Ashram, Bengali Tola.
Nitai has built excellent veenas. His son, Tarak, now runs the shop. Tarak has built Dagar-style Rudra Veenas for Asit Kumar Banerjee.

Naeem Sitarmaker (Bhartiya tantu vadya kendra)
Click HERE for photos of Rudra Veenas built by Naeem Sitarmaker
Click HERE for photos and video of Bamboo Been built by Naeem Sitarmaker
INSTRUMENT DEALERS
Sitarsencat
Nitai Chandra's rudra veena are of the finest quality. According to the tradition, and respecting all processes during the instrument's construction in order to obtain only first quality instruments.

India Instruments
Excellent source for Indian Instruments. Top quality customer service

Tarang Indian Instruments
Another good source for Indian Instruments.

DMS - Delhi Musical Stores
Specialising in Harmoniums, Tabla, Sitar and All other kinds of North Indian Musical Instruments Since 1970. Manufacturers and Exporters of Finest quality Indian Musical Instruments... including Rudra Veena
RUDRA VEENA REPAIR / RESTORE
Scott Hackleman
Taught by Murari Adhikari of KanaiLal & Brother
Point Roberts, WA U.S.A.

Click HERE to view photos of Rudra Veenas owned by Thomas Marcotty and restored by Scott Hackleman

Click HERE to view photos of a Dagar Rudra Veena restored by Scott Hackleman

Tony Karasek
Actively involved in all aspects of India's music for over 30 years doing extensive instrument repairs, adjustments to concert artist's specifications, appraisals, teaching and performing.
STRINGS
The Instrument Workshop
Lutz has everything you need for Phosphor Bronze Wire and Roeslau Music Wire. The website can be hard to navigate, but this link displays their address, email address and phone number. When sending email, include '7777' (with the single quotes) in the Subject, to get past the spam security.

Monoj Kr. Sardar & Bros.
An excellent source for Karuna brand strings and Indian Musical Instruments.
Karaj: Karuna Tanpura Double Winding # 18
Pa: Karuna Tanpura Double Winding # 20 DHRUPAD
The Dhrupad Music Institure of America
a Non-Profit organization founded to promote, propagate, encourage, and support the performance and teaching of the oldest form of Indian classical music, known as Dhrupad, both vocal and instrumental (on such instruments as the pakhawaj, rudra vina, and surbahar in particular, as well as other instruments), in order to increase public awareness and knowledge of Dhrupad music in the United States.

Dhrupad of the Dagar Tradition
Dhrupad classical North Indian temple and court music - a site maintained by veena player, Glynn Snellgrove

A Portrait of Ustad Zia Fariduddin Dagar
With a link to a film by Shaina Anand. The short video was shot over a day at Dhrupad Sansar, Ustad Fariduddin Dagar's residence on the IIT Bombay campus

Dhrupad Vocal and Sarangi
Marianne Svasek studied Indian classical singing at the Rotterdam Conservatory with Ustad Zia Mohiuddin Dagar and Uday Bhawalkar. Since 1994 she is being taught in India by Ustad Zia Fariduddin Dagar. She studied sarangi with Joep Bor and Pandit Ram Narayan.

Dhrupad: Tradition and Performance in Indian Music
By Ritwik Sanyal and Richard Widdess.

Nancy Lesh Kulkarni, dhrupad cello
Nancy Lesh Kulkarni is a classically-trained cellist who has devoted herself to the study and performance of dhrupad music of India on the cello for the last 30 years.

RAGAS
Music In Motion
"The aim of this project is to freely put at the disposal of students, teachers and researchers of music a new tool, that enables us to take a zoomed-in look-and-listen of North Indian music (Hindustani sangit)."
FILMS
Rajesh Bhatia
Rajesh Bhatia is a film Director/Producer. His works include films of Jyoti Hegde and Pt. Suvir Misra. Those films document the music and lives of the musicians, in a beautiful and personal way.
SOUND / MUSIC THERAPY
Sound relaxation with the Rudra Veena
Thomas Meisenheimer: Sound therapy for harmonization and deep relaxation.
SOFTWARE
AP Tuner
A great free software tuner! This one works better than most hardware tuners that you buy at a music store. It's shareware, but it's not disabled in any way. Excellent for tuning sitars, tablas and as a pitch pipe for voice.

BestPractice - A great little practice tool that lets you slow down, loop, and change the pitch of any wave file or CD recording. It also removes vocals from recordings so that you can hear the instrumental parts better.

TaalPulse - TaalPulse is a free software Lehra, Theka and Tampura machine for the student of Hindustani (northern Indian) music. It is designed to run on portable devices (such as Compaq iPaq) but it also runs on desktop computers (Windows, Linux and MacOS).

Visual Analyser - A free, software Oscilloscope, Spectrum Analyzer with amplitude and phase display, Wave-form generator, Frequency meter, Volt meter, and more.

Audacity
Audacity is free, open source software for recording and editing sounds. It does multi track recording, and it's great for putting parts together because you can edit the sounds visually. You can also use it to slow down and change the pitch of recordings, so that they're easier to learn. It's one of the best learning tools available, and it's powerful enough to create commercial recordings - even full length albums. It's a very small download, and it runs on virtually any computer platform.
MISCELLANEOUS
Deep Music
Deep Space, Deep Sound, Deep Thought, Deep Music



For information about the Rudra Veena and more, please select from the Menu.